Chum Power L Series - High Speed Linear Electric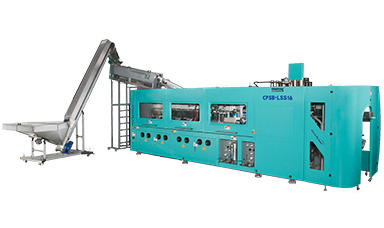 CPSB - LSS16 (16 cavity)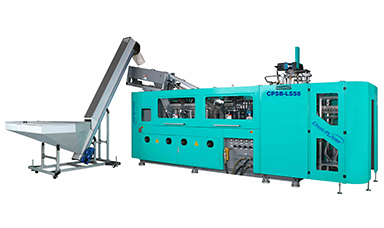 CPSB - LSS8 (8 cavity)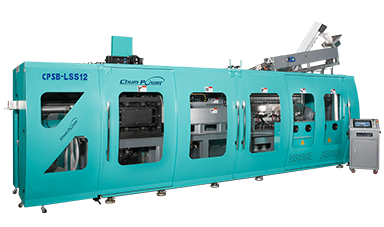 CPSB - LSS12 (12 cavity)
The L Series All Electric, Continuous Motion Reheat Blow Machine was introduced in 2007. The machine has met with fantastic success and several hundred have been sold. Chum Power was already one of the world's largest suppliers of RHSB Machinery and supplies several hundred machines annually throughout the world.

The design is one of a hybrid rotary and linear mix, with a completely reliable all electric system and high output. The L Series gives its users the best return on investment in its class, regardless of competitor.
Feeding System
Starwheel design guarantees smooth, reliable and continuous operation
Preforms are right side up through the entire machine.
Mandrels have spring loaded receptacles that ensure concentric rotation.
Top mounted un-scrambler for saving space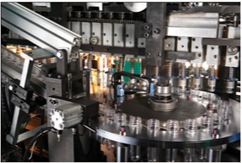 Heating Section
Water cooled cooling ramps through-out for maximum preform neck protection
Modular ovens with easy access
50mm preform spacing for best energy usage.
Preforms are always right side up eliminating turn - over problems, chain wear etc.
2 x 3 ovens layout with turnaround section for equalization of preform temperature.
Excellent ventilation system to ensure cool preform surface.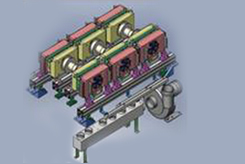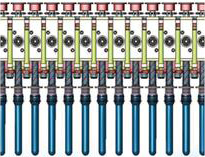 Oven Details
Chum Power lamp spacing is 17mm (15.5mm on request).
Lamps can be moved.
6 to 16 lamps per oven.
Each lamp can be turned on or off.
Heat shield is water-cooled.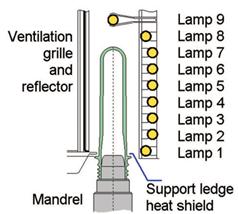 Transfer and Variable Pitch System
Preform transport and pitch unit are both controlled by servo motors.
Pitch unit grabs preforms, then moves them towards blow clamp and enlarges the pitch to blowing dimension.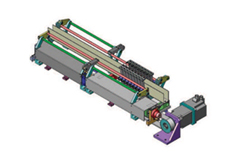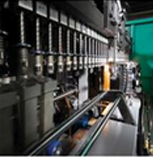 Clamp Unit
Toggle clamp triggered by cam.
Cam controlled by servo motor.
Cam rotates continuously in one direction greatly reducing vibration.
Patented design
Stretch rod is servo motor controlled.
Each cavity has its own set of blow valves allowing individual control and reducing air consumption.
Blow nozzle seals on transfer ring - no neck deformation.
Bottom insert movement is mechanically coupled to clamp.
Pressure compensation reduces bottle parting line and mold wear.
Swiss manufactured precision valves for ultra-fast response time and high volume production.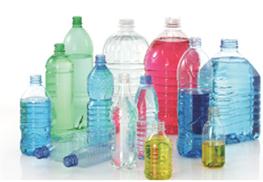 Fully universal machine for most applications.
Air Recycling
Standard with every machine.
Optional additions are
Heat Set & Preferential Heating.
Control System
German manufactured Beckoff.
10.4' LCD Touch Screen